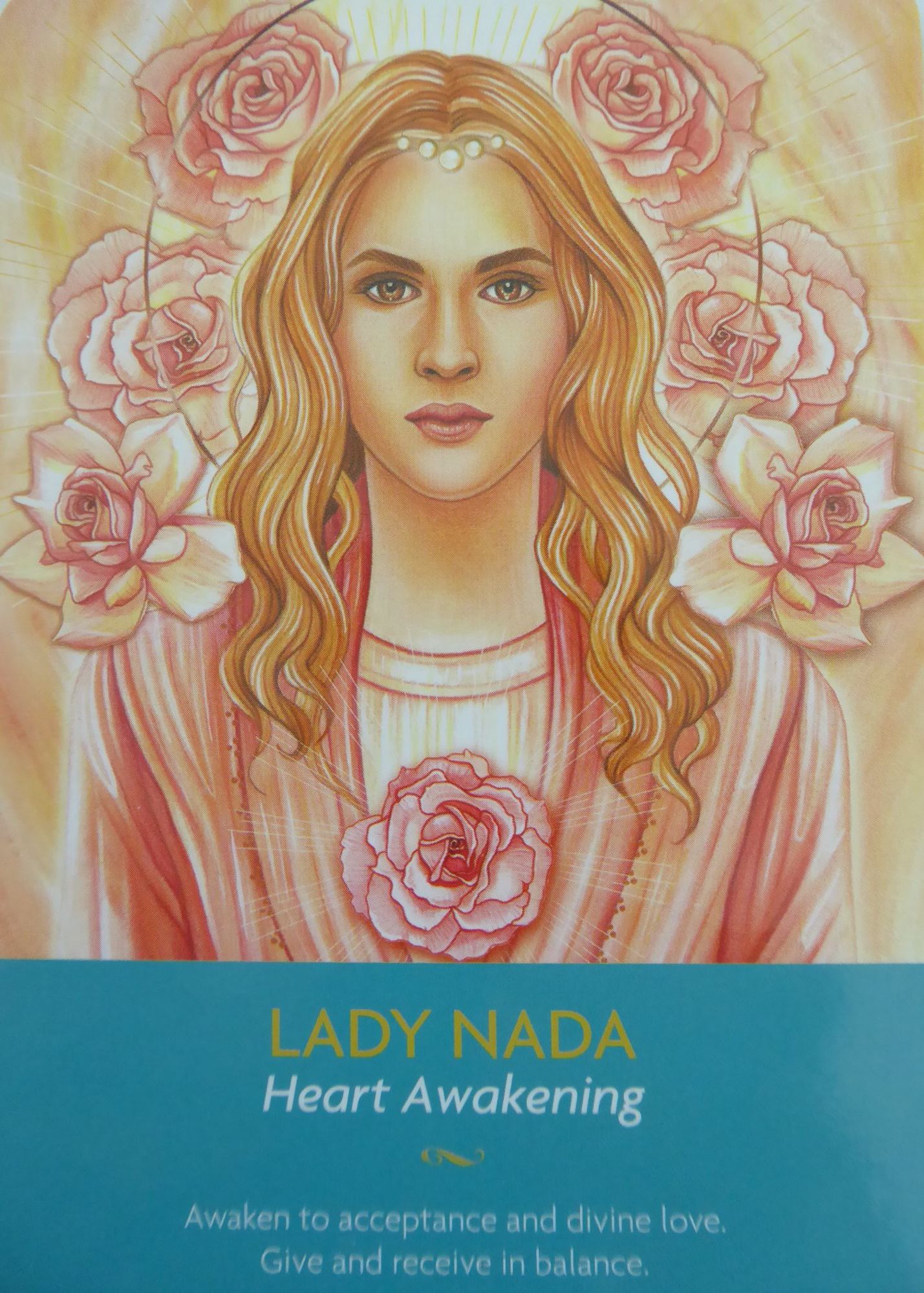 Today our guidance comes from the Ascended Master, Lady Nada.
There is a very gentle energy flowing from the card today, a gentle and loved-filled energy that we would associate with Lady Nada.
Two colours stand out for me on the card; those of pink (both light and dark) and peach (I felt very drawn towards the colour description 'peach' rather than that of 'orange').
Pink is the colour of compassion and Lady Nada is all about awakening our heart centre, of introducing and bringing us to divine love. The deep shades of pink talk to me about the depth of Lady Nada's compassion and love for us.
The colour peach was named after the fruit of the same name. When we think of the fruit, peach, we think of a fruit that brings a gentle comforting when we bite into its juiciness. It brings warmth, like the warmth of a friendship filled with deep caring. We also think of joy and happiness when we think of biting into a peach, the juicy richness, the soft flesh... However it's a joy and happiness that isn't as exuberant as orange would be, and I feel this is why I felt so strongly drawn to the word 'peach' rather than that of 'orange'.
Lady Nada is surrounded by, almost crowned by pink roses. Roses are traditionally renowned for their enchanting beauty, their fragrance, and their strong character.
When we think about roses coming into bloom, we picture their bud gradually opening to reveal layers of blossoms. Similarly, pink roses in association with Lady Nada demonstrate the gradual and beautiful unfolding and awakening of our heart when we turn to her for support and guidance, the development of our peace, gentleness and compassion towards ourselves and others.
Lady Nada opens our hearts to receive the divine love that we deserve and she also expands our heart to reveal the true, authentic, natural aspect of our very soul essence.
Lady Nada is also associated with children and, through helping us to open our heart, can help heal our inner child.
Through the presence of this card and Lady Nada, today, we are being reminded that our heart is opening and expanding, should we wish it to. Often we keep our heart closed to protect our vulnerabiilty, our sensitivity, so we cannot be hurt. However, by opening our hurt, we are not opening ourselves up to be hurt as we may initially believe, based on past experiences. Rather we're opening ourselves up to be healed; healed from past pain, from past hurts, from heartache and heartbreak. And, in so doing, we open our heart to receive love; love from the divine, love from ourselves, love from others.
Reference: This beautiful card is from Keepers of the Light Oracle Deck by Kyle Gray, artwork by Lily Moses