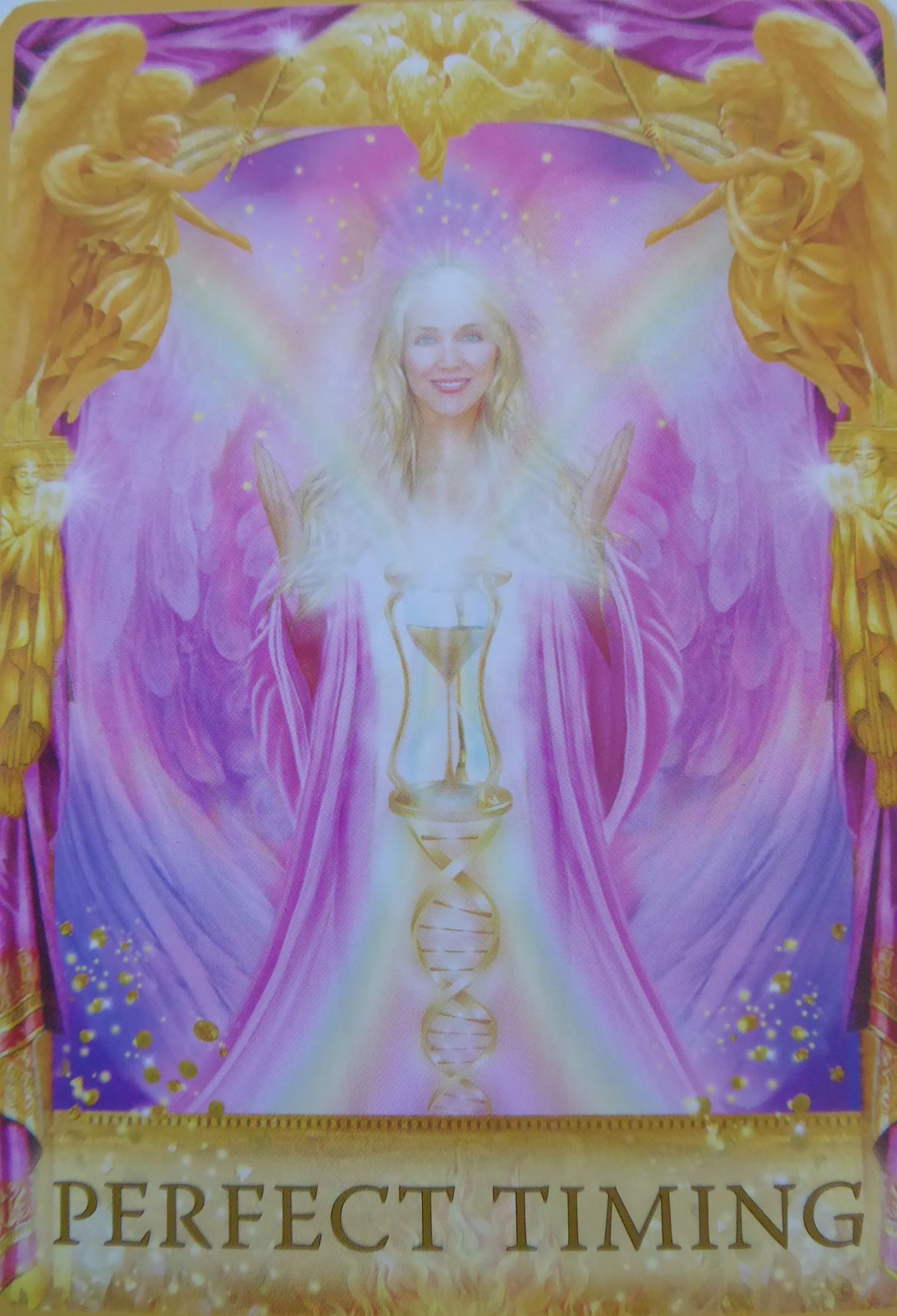 What has been your struggle? What have you been asking the angels for guidance and support on?
Now is the time to receive that guidance and support, now is the time to take action, now is the time to listen. Don't waste your time procrastinating, being crippled by fear of stepping forward. Now is the time for action.
The first symbol that stands out for me, on the card, is that of an hourglass. The sand in the hourglass has only started to run. The hourglass says two things to me:
firstly, it has a curvaceous figure which references the feminine. Feminine energy is all about receiving
secondly, I'm reminded of the phrase "the sands of time" which warn us that time passes fleetingly, don't waste it
So we are reminded on this card to take action and be open to receive before it's too late. Now is the time. Don't live a life of regret wishing you'd taken opportunities that were presented to you, grab those opportunities and invite the abundance of life to flow through you.
Flowing in to, and out of, the hour glass are two rainbows. Rainbows signify expansive blessing and positive change. Whatever situation has been weighing down on you, has caused you to struggle, the angels and the Divine are now allowing positive change and expansive blessings to flow to you and through in with regards this situation. As the expansive blessings flow into the situation, positive change flows out.
However, the rainbows are closely linked to the hourglass as we see the rainsbows flow in and out of the hourglass. This means that opportunities are being sent you way, guidance is being given to you. Don't waste these opportunities because once they're gone, they're gone and may not return.
The colours on the card are also really strong. We have pinks, purples, and golds everywhere.
Pink is the colour of compassion and love of self and others. It's the angels acknowledging that things have been tough and you have been struggling, but also inviting you to be kind to yourself and loving to yourself. They're presenting you with guidance and opportunities to help you through this difficult time. Be loving to yourself and accept what they place in front of you.
Purple is the colour of angelic connection. The angels are asking you to pass your struggles and troubles over to them; to ask them for guidance in the situation you're currently struggling with. They only want the best for us and to guide us to a more abundant and fulfilled life. So ask them to be part of the solution to the struggle that is currently leaning on your heavily.
Gold is the colour of prosperity and success. When you choose to see the opportunities that are set before you, when you choose to accept them and and the guidance from the angels. When you take action now and couple that with an energy that is open to receive, then success and prosperity will come into your life and lessen the struggle that you are currently experiencing.
The lesson behind this card is simple. Now is perfect timing. But if you ignore this advice and don't take action, don't accept the opportunities tha are given to you, the sands of time will run out.
Reference: This beautiful card is from Angel Answers Oracle Deck by Doreen Virtue & Radleigh Valentine, artwork by Marius Michael-George