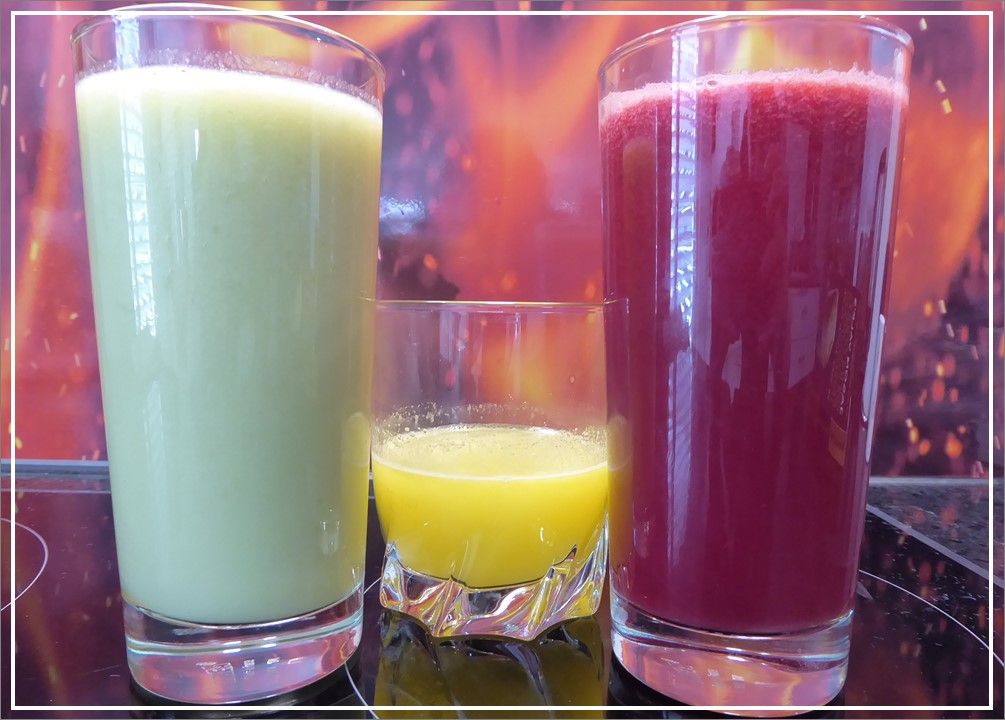 Day 5 hasn't got off to the best of starts, if I'm honest.
I woke at 4am with mild nausea and sore eyes (I sometimes get sore eyes if I haven't had enough sleep and also if my night lenses are due for renewal).
Mild nausea is something I've had on and off since I was seriously ill in hospital back in 2017 (you can read all about that in my introductory blogpost to juicing here). It comes and goes and I've yet to determine a pattern to it.
As I was wide awake with no chance of falling back to sleep I decided to listen to a meditation I have for physical healing and it really helped ease the nausea. But the nausea had been strange as all I could think of was "If I have one more juice, I'll be sick" and yet I've enjoyed drinking the juices (with the exception of the cucumber and celery flavours). It could have just been an early morning mind rant.
So I didn't jump out of bed this morning. I barely rolled out. And finally managing to fall asleep about 20 minutes before my alarm, made matters worse. But I'm here. I'm awake. The bunnies have enjoyed their breakfast (they clearly had a good night) and I'm about to start making my juices for today.
Now... the conundrum is... do I make 1 or 2 thin juices today? I was quite peckish when I went to bed last night but with the nausea this morning I think I'm leaning towards playing it safe and only making 1 thin juice today again. Like I said yesterday, if it's not enough I can just make an additional juice.
And today cauliflower makes its debut... honestly I should be used to it by now but, seriously, who'd have thought you could juice a veg like cauliflower!?!?!
That's the juices for today made.
The rather sickly pale green/cream coloured juice is my thickie for breakfast and dinner. It tastes a lot better than it looks, thankfully. I left the cucumber and celery out today as my tummy is still a tad iffy. This is the juice with the cauliflower. Believe it or not you can taste the cauliflower (ever so slightly!) even though it's mixed with some big punchers like lime and pineapple. It's packed full of anit-inflammatory goodness.
I decided in the end to make only one thin juice today (the vibrant red one) and that turned out to be the right decision as it made almost 2 glasses. I did leave the cucumber and celery in this one (hope that wasn't a mistake) but only used half the portion. The amazing colour is thanks to beetroot, red cabbage, and tomato.
Yesterday I mentioned that the skin at the top of my arms is feeling smoother. I can confirm that this is still the case and can only, therefore, put this down to the juicing. That's one of the many (I hope) benefits I'll experience.
One of the reasons I decided to juice was to try to reduce the number of drugs I'm taking by reducing the number of dis-eases in my body. I've had Colitis/Crohn's since 2006 so it's well extablished in my body. So I don't expect to see any/much change until the 28 days are up. But I do expect to see a difference in my diabetes as it's a newer dis-ease. However, I have noticed that my sugar levels are quite high in the mornings (we're talking around 7.5.... so not super high but kind of around the level they would have been if I'd been munching a bit of chocolate the night before!). I've been used hitting around the 6.0 - 6.5 marks before I started juicing. So I'm wondering what's been going on. I know there have been a couple of evenings where I've forgotten to take my diabetes pill but that doesn't seem to have had an influence on my morning levels. On a positive note, they do reduce as the day goes on so I'm hoping my overall averages will reduce... we'll just have to see. Watch this space.
It's afternoon, I've been for a walk and now it's time for my thin bright red juice. This is the opposite of the thick juice. Where the thick juice didn't look appealing but tasted good, this juice looks appealing but, honestly, it's not for me. It really is horrible!
I'm determined to drink it, though, because I know how good it is for me, but there's some serious concentration going on to keep it down... big time gag city! And I even put in half the portions of cucumber and celery so I can't blame them!
The only new vegetables being introduced here today are tomato and red cabbage. I can only assume it's the red cabbage that's causing all the offence as tomatoes don't have a huge amount of taste. And that's a shame because red cabbage is supposed to be really good for Colitis/Crohn's.
Anyway... I'll keep chugging and hope I make it through the glass and (more than) a half that's staring at me. But it's not going to be easy. Wish me luck!
Well... I kept chugging and made it through the tall glass of thin juice.... but only just. That last mouthful was really tough going. It was as if I was preparing for a colonoscopy all over again. Horrid!
The other half-ish glass... well... that simply was far too much for me. I've had to admit defeat (it was either that or lose everything I'd already drunk, down the toilet).
I guess there always has to be one (and hopefully only one) juice that you just can't stomach.
Turns out I wasn't able to stomach the yummy thick green juice this evening either. The nausea from this morning came back.
I've done a check in with myself and it seems it's not the juicing that's making me nauseous, rather a possible infection somewhere (which kinda makes sense as the last time I had a bladder infection I couldn't eat or drink anything... I just kept throwing everything up).
I'm hoping the juicing hasn't, indeed, made me ill. I really want to keep going and see just how much it benefits my body and improves my health. But on the other hand I really don't want this to be an infection either. Last time I had an infection I landed myself in hospital for almost 4 weeks. So I'm feeling a bit stuck between a rock and a hard place.
So I've requested some angelic healing this evening while I sleep and am trusting that will bring everything back under control and I'll be back on form in a day or two.
Viv xx