Allergens and Me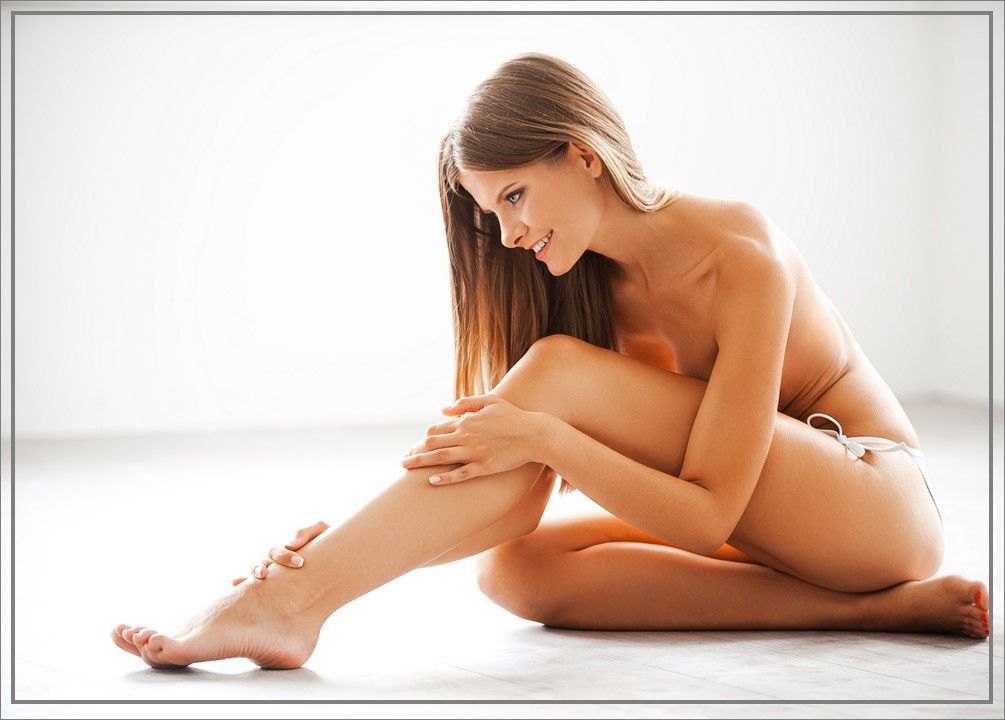 What is an Allergen and why should I be bothered?
An allergen is a substance that can cause an allergic reaction, especially in someone who is sensitive or intolerant to it.
Allergens that tend to have the most potential for creating an allergic reaction are found in fragrances.
The Scientific Committee on Consumer Safety (SCCS) published a factsheet explaining that up to 3% of the European population have an allergy resulting from fragrance ingredients.
The EU Cosmetic Regulations created a Regulation known as Cosmetic Regulation 1223/2009 which lists the 26 most allergenic-substances that can appear in a fragrance and, thus, a skincare or cosmetic product. According to European Law these allergens must be listed on the ingredients label of a finished product, should they be present at certain pre-determined thresholds.
For products that you wash-off (e.g. shower products), the allergen must be listed if it is present in the final product at a percentage of 0.01%
For products that you leave on (e.g. lotions, serums, body butters), the allergen must be listed if it is present in the final product at a percentage as low as 0.001%
For approximately 97% of the European population allergens create no current allergic effect. But for the 3% that are affected by allergens, it is important to know which allergens can create an allergic effect. This can be determined by attending a Dermatologist for a skin reaction test. The Dermatologist will then give you a list of allergens you need to avoid.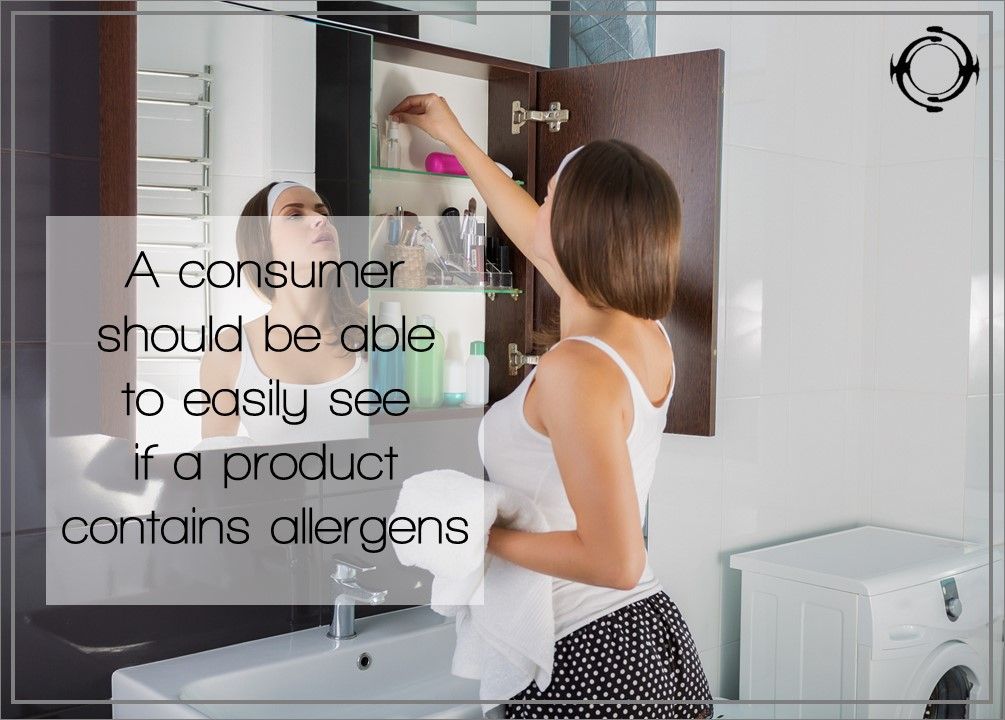 What are these Substances and Why Declare them on the Ingredient Label?

The reason allergens are legally required to be listed on an ingredient label, where they are present at the pre-determined thresholds, is to protect consumers by providing enough information at the time of purchase. The consumer should know immediately whether the product contains an allergen they are intolerant to, or not. Thus, giving them the purchasing power to avoid that product, and the allergic reactions it may create for them.

According to legal requirements, the allergen information should be clear and easily accessible to the consumer. Therefore it must appear on the product's label. Although not all skincare companies would support my thinking, I believe this also means that a full ingredients listing should be provided for the consumer on a company's website. By providing the full ingredients listing on the website, a company is demonstrating transparency and authenticity, and showing that it cares for its consumers.

Because allergens are present in an end product at such a low percentage, you will most often find them listed at the end (or near the end) of the ingredients list.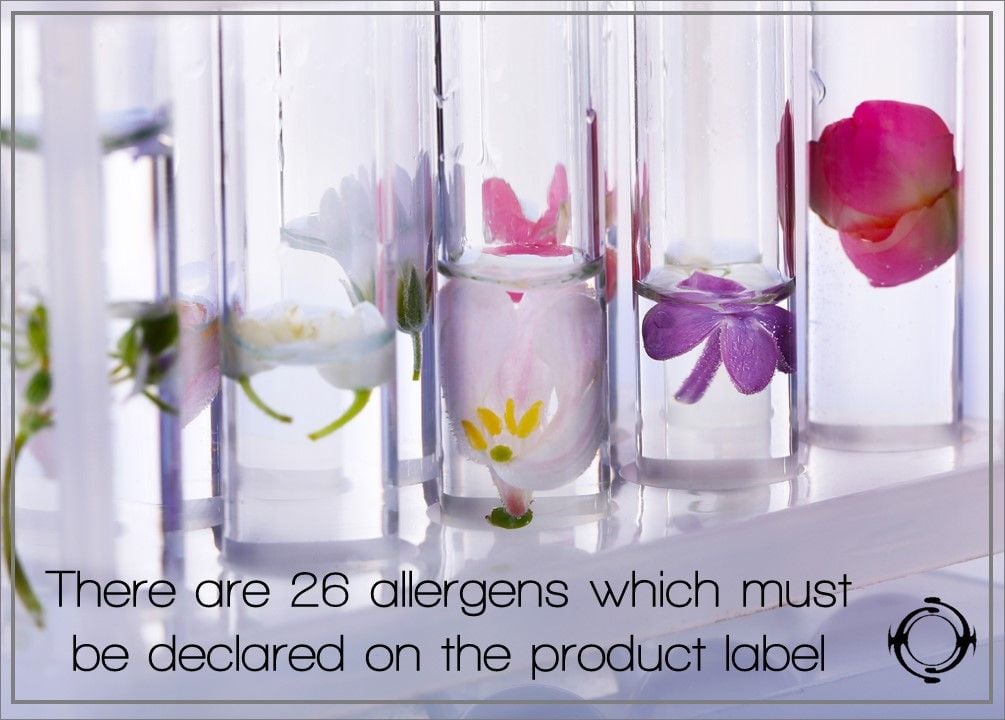 The 26 allergens that currently have to be listed if present, at or above the pre-determined threshold, in the end product are:
Alpha-Isomethyl ionone

Amyl cinnamal

Amylcinnamyl alcohol

Anise alcohol

Benzyl alcohol

Benzyl benzoate

Benzyl cinnamate

Benzyl salicylate

Butylphenyl methylpropional

Cinnamal

Cinnamyl alcohol

Citral

Citronellol

Coumarin

Eugenol

Farnesol

Geraniol

Hexyl cinnamal

Hydroxycitronnellal

Hydroxyisohexyl 3-cyclohexene carboxaldehyde

Isoeugenol

Limonene

Linalool

Methyl 2-octynoate

Evernia prunastri (Oak moss)

Evernia furfuracea (Tree Moss)

Some of these allergens are naturally derived, others are synthetic and others can either be naturally derived or synthetic.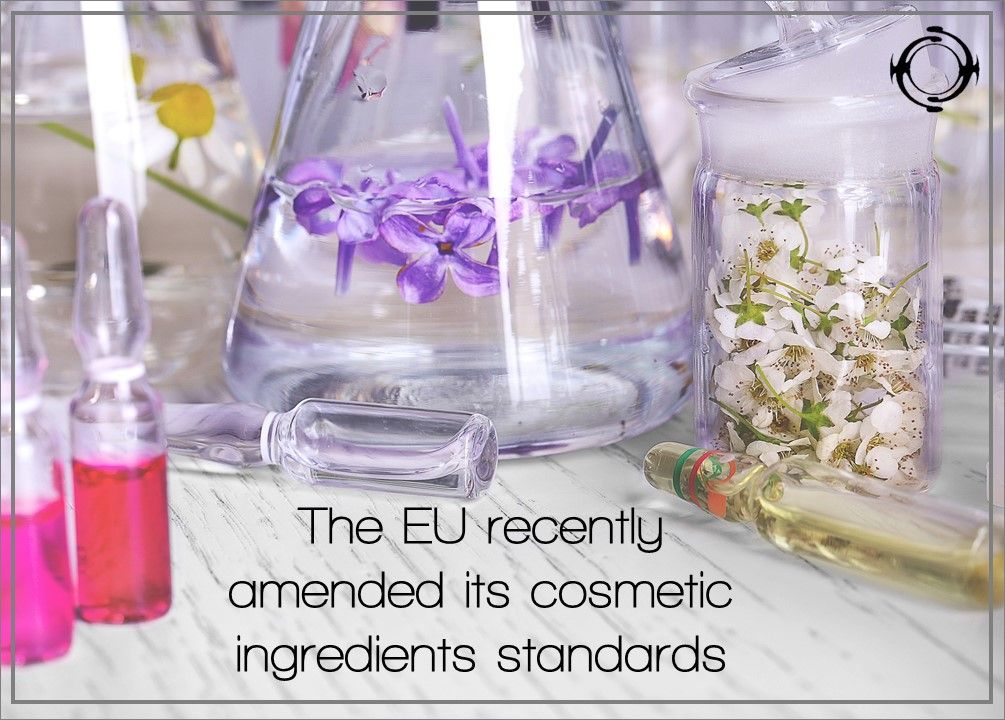 Recent Changes to the Cosmetic Ingredients Standard

On August 23, 2017 there was a change made to the list of 26 allergens as the EU amended its cosmetic ingredients standards.

As of that date the EU added Hydroxyisohexyl 3-cyclohexene carboxaldehyde to the cosmetic prohibited list and deleted it from the limited list (which originally allowed it's presence in a final product at a pre-determined threshold).

The Amendment has declared that Hydroxyisohexyl 3-cyclohexene carboxaldehyde cannot be included in newly released products as from 23rd August 2019 and it has to be removed completely from the market by 23rd August 2021. So, basically up until August 2019 a skincare brand can continue to use fragrances containing this allergen. After that date, skincare brands can no longer use fragrances that contain this allergen. Furthermore, by Aug 2021 any stock a skincare brand may still carry that include fragrances that contain this allergen can no longer be sold legally.
In addition Atranol and Chloroatranol, which are ingredients present in natural extracts such as Oak moss, were also added to the prohibited list on August 23, 2017. Although you will not find Atranol or Chloroatranol mentioned in the above list of 26 allergens, they can be naturally present in Oak moss (Evernia prunastri). However the regulation change is unclear about whether or not Oak moss should, like Hydroxyisohexyl 3-cyclohexene carboxaldehyde, also be banned.
I just want to highlight that the Amendment was set as of August 2017, but it doesn't kick in until August 2019, at the earliest. Although issues have been found with regards Hydroxyisohexyl 3-cyclohexene carboxaldehyde, Atranol, and Chloroatranol, the supply chain is so long and many skincare brands will have built up so much in stockpiles of products with fragrances containing these substances, that an immediate ban would simply be too costly for the industry.
But what about consumer health? This is an example where you need to use your educated knowledge, vigilance, and the power of your wallet.
When you read the ingredients on a product label, if you see (towards the end) either Hydroxyisohexyl 3-cyclohexene carboxaldehyde or Evernia prunastri listed, I recommend you set the product back on the shelf and choose something different. The EU do not regularly amend the cosmetic ingredients standard. When they do we should take heed.
As an aside, I want to reassure my customers that none of these substances, newly removed from the cosmetic ingredients standard, appear in any Simply Skin products.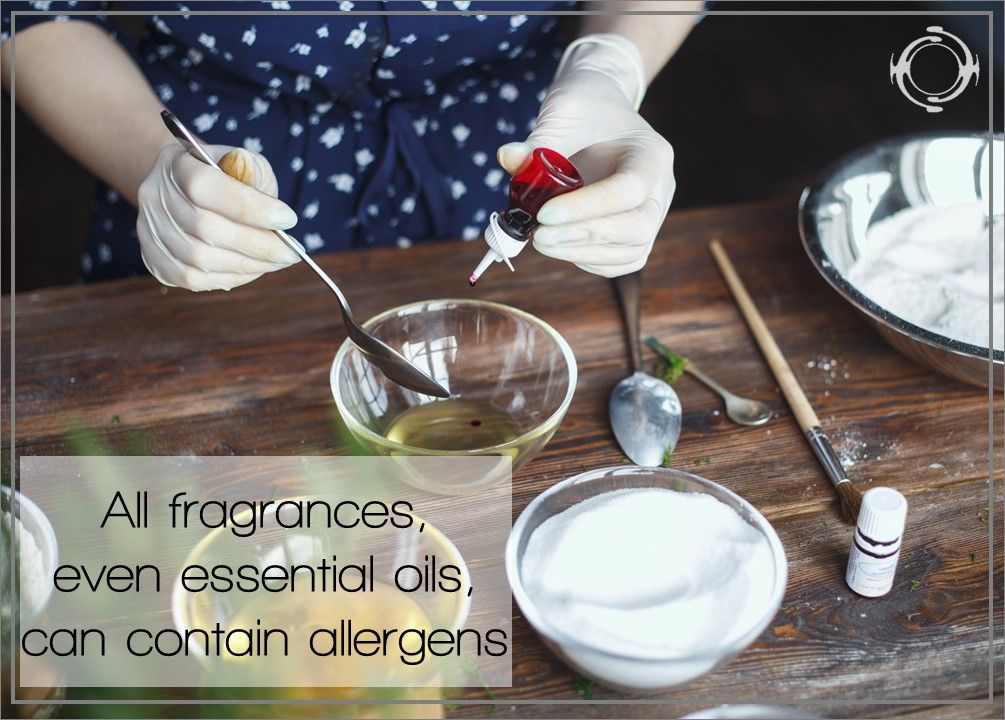 Why Should I Care - I Only Buy Products Containing Essential Oils

As I mentioned above, allergens that tend to have the most potential for creating an allergic reaction are found in fragrances.

So it doesn't matter if your fragrance is natural, synthetic or an essential oil, it can still contain an allergen.

What I have noticed the past few years are skincare brands listing the allergens associated with the natural fragrances or essential oils in their product and highlighting them as being "naturally derived". That must be fine then, these allergens are naturally derived and natural is good, isn't it?

Sadly, no.

This is merely a clever marketing ploy to make you believe that naturally derived allergens are better. If your body cannot tolerate an allergen it, quite simply, cannot tolerate that allergen. It doesn't matter whether the allergen in question is naturally or synthetically derived. An allergen is an allergen.

If the allergens in essential oils and natural fragrances were completely safe and never induced an allergic reaction, then the EU Cosmetic Regulations would not list the allergens associated to that natural fragrance/essential oil. Rather these fragrances would be listed as allergen-free... and that is simply not the case.

I recently skimmed through the allergens associated with over 100 essential oils and I found only 2 essential oils that appeared to be allergen-free. Now, there could be one or two more that I missed.... but not many. So also don't let anyone tell you that essential oils are allergen-free.
Fragrances (be they natural, synthetic or essential oils) and allergens go hand in hand.

If you are sensitive to a range of allergens, my advice is that you seek out products which contain a fragrance which is allergen-free (such as the Simply Skin's Guilty Pleasures Collection).

And if that doesn't work, then choose products that are unscented (such as Simply Skin's Pure & Sensitive Collection)